Hi! I'm Kyla.
I'm a Reiki Master at LunaHolistic. Through the use of Reiki, I enjoy supporting both people and animals on their healing journey.
I'M ON LEAVE TILL FALL 2023
Dedication
I've always had a big dream to help others heal, grow, and uncover their intrinsic worthiness for themselves. One of my greatest joys and passions is empowering others to discover their inherent self-worth, gifts, and to shine their bright inner light. I believe that everyone has the ability to heal themselves from within and set themselves free. I also have a deep passion and desire to give back to the Earth and to care for animals.
Transformation
When my path lead me to Reiki in 2016, it resonated deeply. Ready or not, my Reiki journey brought my inner Healer to the light, to be a guide to others as they learn to shine their vibrant, irreplaceable light in the world. My Reiki practice allows me to pursue all of my dreams to be of service to people, animals, and the Earth.
I have been on a spiritual journey to heal myself and find deeper meaning in my life from a young age. Through many unexpected twists, turns, ups, and downs, I found my way to my true purpose and gifts, assisted by Divine grace and my persistent determination to follow my soul's calling.
Along the way, I discovered my true self—my inner light, my self-worth, and a deep, innate capacity for self-love and acceptance.
I am also on a new journey of self-discovery as an Empath and have a special interest in guiding and supporting other Empaths through Reiki and coaching.
Connection
I love being with animals and I offer Reiki sessions for any special critter in your life. I also offer distance Reiki, which can be received from the comfort of your own home for you or your animal companions. If you're ready to take the next step and reveal your true self and inner power to the world, I would be honoured to help you on your journey! Much love and light to you!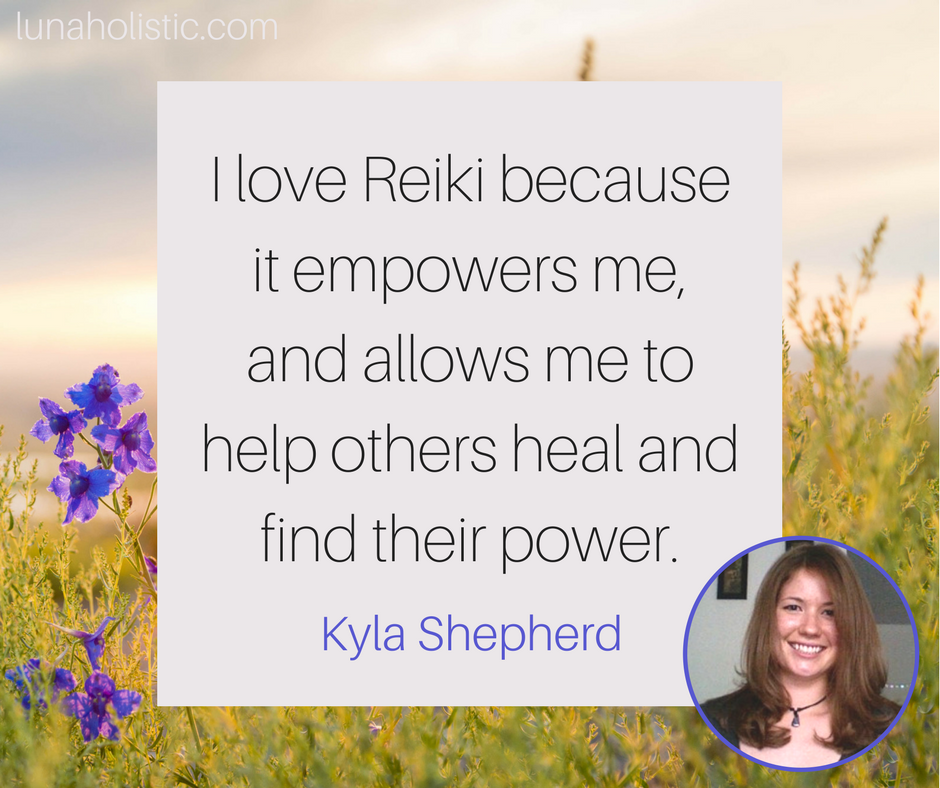 LunaHolistic has helped bring so much love and light into my life! Initially, I didn't know much about Reiki but as soon as I stepped through the door I felt a sense of ease and comfort. Kyla has helped me on my self-healing journey in ways that I cannot put into words. 

She is so dedicated to helping people align their mind, body, and spirit. After only a few Reiki session I have been propelled down a path to ultimate happiness and health. I would recommend anyone and everyone visits LunaHolistic to experience this higher level of growth and spirituality.
Kyla is a gifted Reiki practitioner who brings a deep dedication and commitment to her practice. She is enthusiastic about helping people with Reiki and gets incredibly clear images and spiritual information. Reiki sessions from Kyla are amazing! 
Kyla's Reiki Courses ~ Winter 2022